Three Phase Power Logger
Analysing in detail
Noninvasive measuring of effective, apparent and idle power, current and voltage for all three phases of all systems and current distribution boards.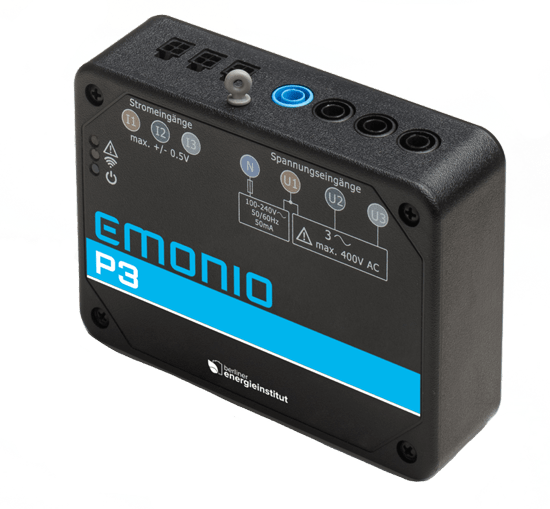 EMONIO P3
3-Phase Data Logger
424,00 €
Record load curves
temporarily and mobile
Ideal for measuring load curves and for planning photovoltaic systems or charging ports for electric vehicles.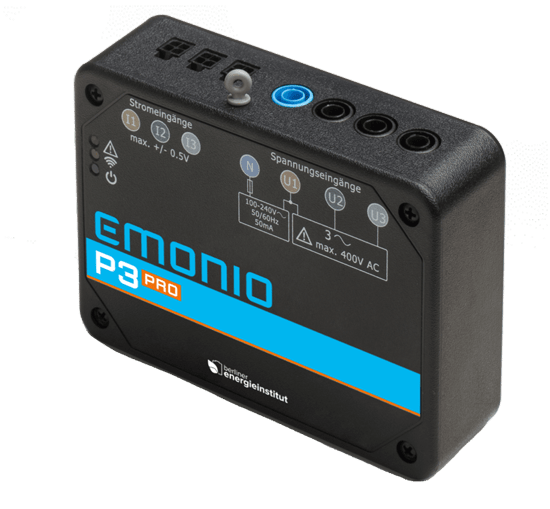 EMONIO P3 Pro
harmonic analysis
available from Jun 2022.
759,00 €
Increase efficiency
anywhere in your organization
Suitable for energy management according to DIN EN ISO 50001, DIN 16247 for energy audits and for all projects targeted at increasing energy efficiency.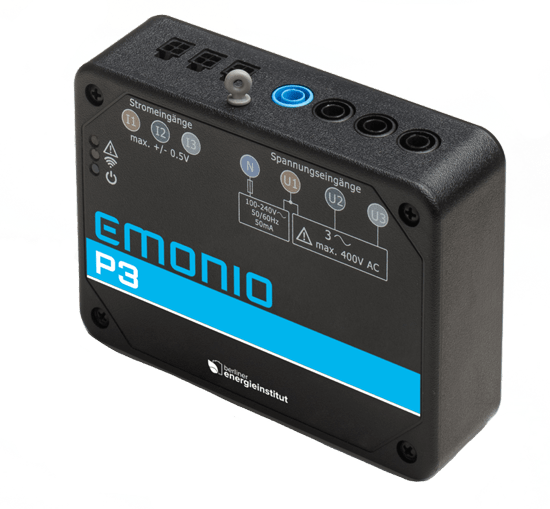 EMONIO P3
3-Phase Data Logger
424,00 €
Visualize your Results
Visualize measurement date in high-resolution. Display key energy efficiency indicators in your integrated analysis software.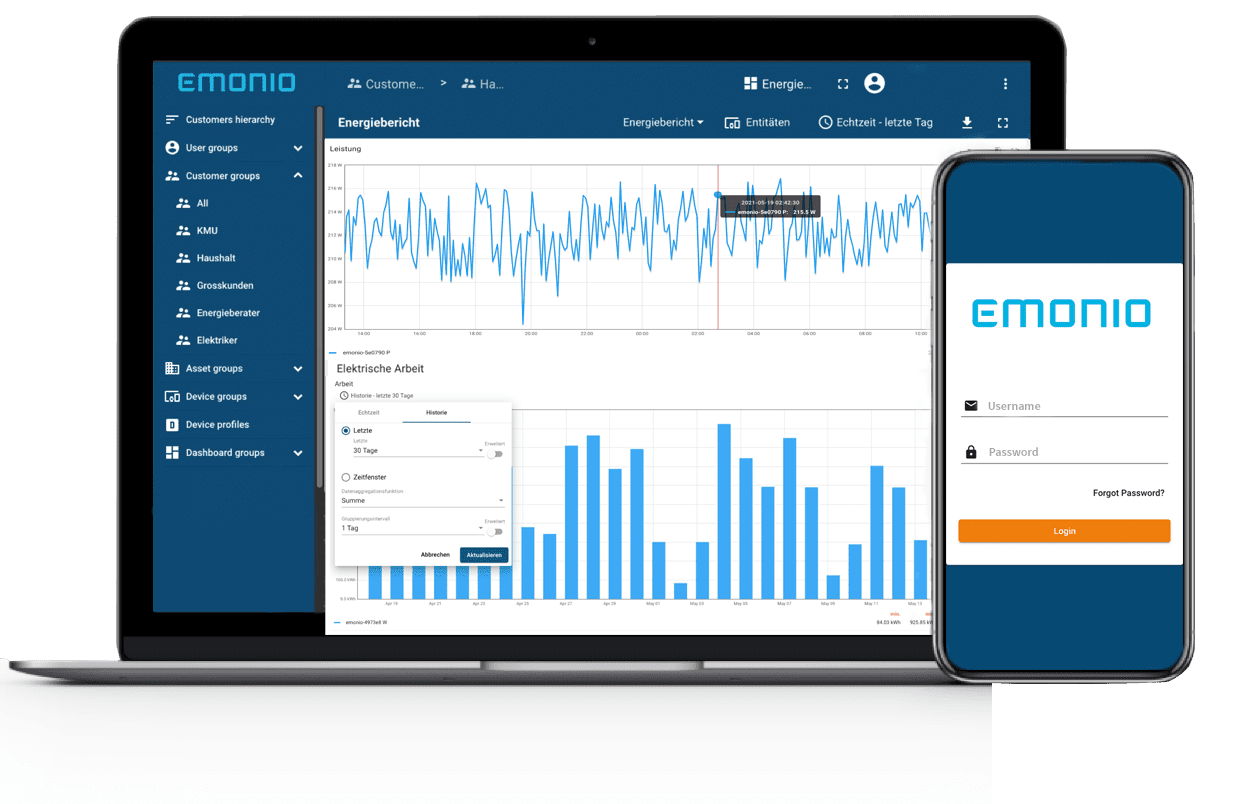 EMONIO
Analysing software
34,90 €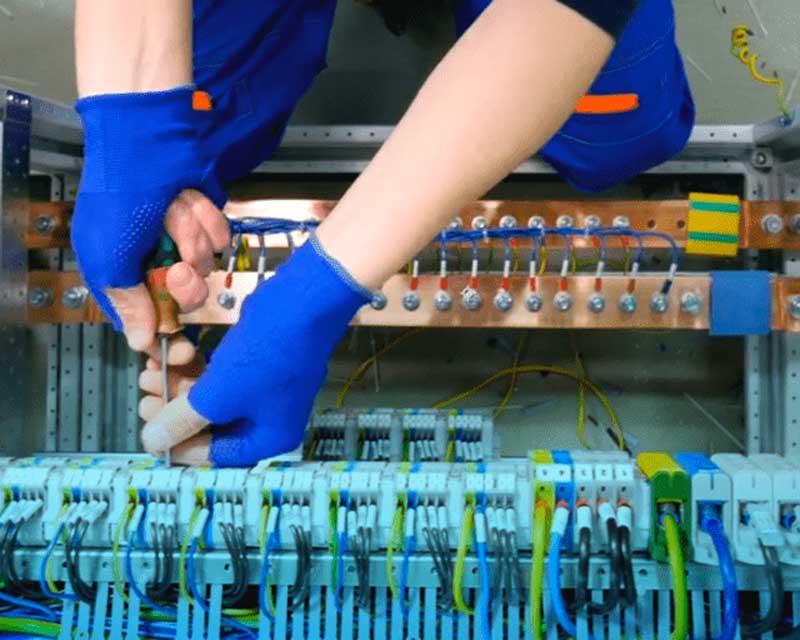 The Emonio P3 three-phase power measuring device determines the power consumption of house connection points, man and sub distribution points, devices and systems. It is especially suitable for mobile and temporary measuring of 1-phase and 3-phase AC power. Emonio P3 quickly and precisely delivers measuring results an can be quickly connected to any distribution cabinet.
Benefits of the Emonio Energy Monitoring System
Mobile, temporäre Energiemessung
Emonio P3 can be connected to any distribution cabinet. It is small, light and has a magnetic backplate.
Noninvasive power measurement
It uses rogowski coils or foldable current transformers are used to measure the voltage while magnetic tips are used for the voltage supply.
Vielfältig einsetzbar
Emonio P3 is ready for diverse use and measures all single and three phase consumers. The power sensors are interchangeable with any other Emonio P3 unit.
Easy to configure
Emonio P3 is an ideal tool to simultaneously measure several consumers at different locations. It also features WiFi and MQTT interfaces.
No Software Installation Required
Measurement data is visualized in realtime in your browser or on your smartphone. Or laptop. You can download the measuring data and analyze it on pro.emonio.de.
Geprüfte Sicherheit
Precisely record load curves by second, minute or hourly intervals with max. 1% deviation (precision class 1). Emonio P3 is pre-calibrated for immediate use.
Mobiles, temporäres Messen leicht gemacht
Der Emonio P3 kann in allen Verteilerkästen angeschlossen werden. Er ist klein und leicht und verfügt über eine magentische Rückseite
Einfache Installation
Einfache Installation, leichte Konfiguration, idal für die zeit-gleiche Messung diverser Verbraucher an verschiedenen Standorten. Schnittstelle WLAN, MQTT
Präzise Messdaten
Messungenauigkeit < 1% – Jedes Gerät wird kalibriert und mit einem Kalibrierzertifikat ausgeliefert.
Noninvasive Messung
Die Spannungsversorgung erfolgt über magnetische Messspitzen. Die Strommessung über Klapp-wandler oder Rogowskyspulen.
Geprüfte Sicherheit
(neuer Text kommt) Lastgänge von sekundengenau bis zu stündlichen Werten. Gerät wird fertig kalibriert ausgeliefert.
Platzhalter
(neuer Text kommt) Lastgänge von sekundengenau bis zu stündlichen Werten. Gerät wird fertig kalibriert ausgeliefert.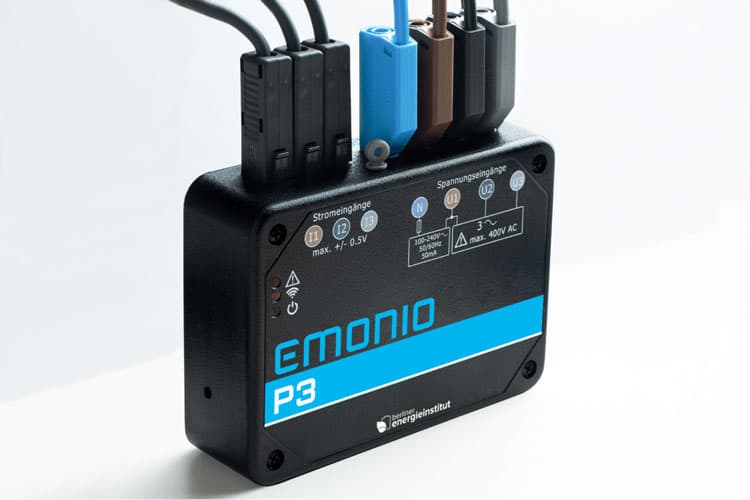 Emonio P3 – Our solution for complex measurement requirements 

Every project usually requires monitoring of multiple electrial devices.  Emonio P3 enables you to perform this key task precisely and with detail.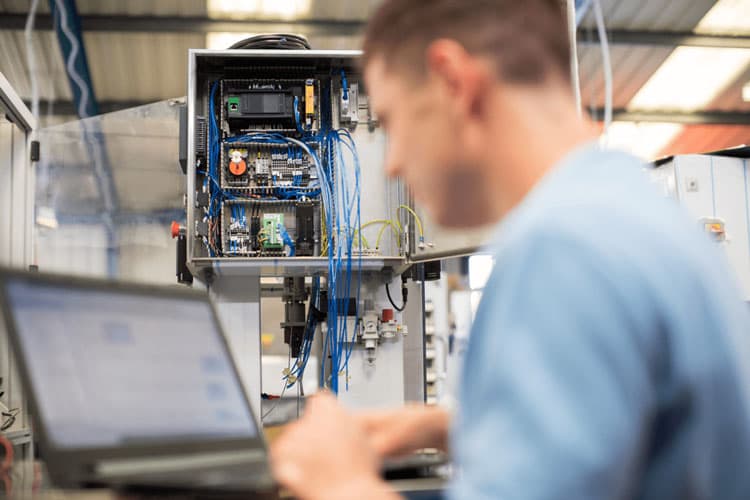 Einfacher Einsatz vor Ort
No technical installations required for on-site energy monitoring. WiFi connection is required for transferring power data. Any smartphone, tablet or laptop can be used as a display screen.
1 Install voltage sample and
current transformers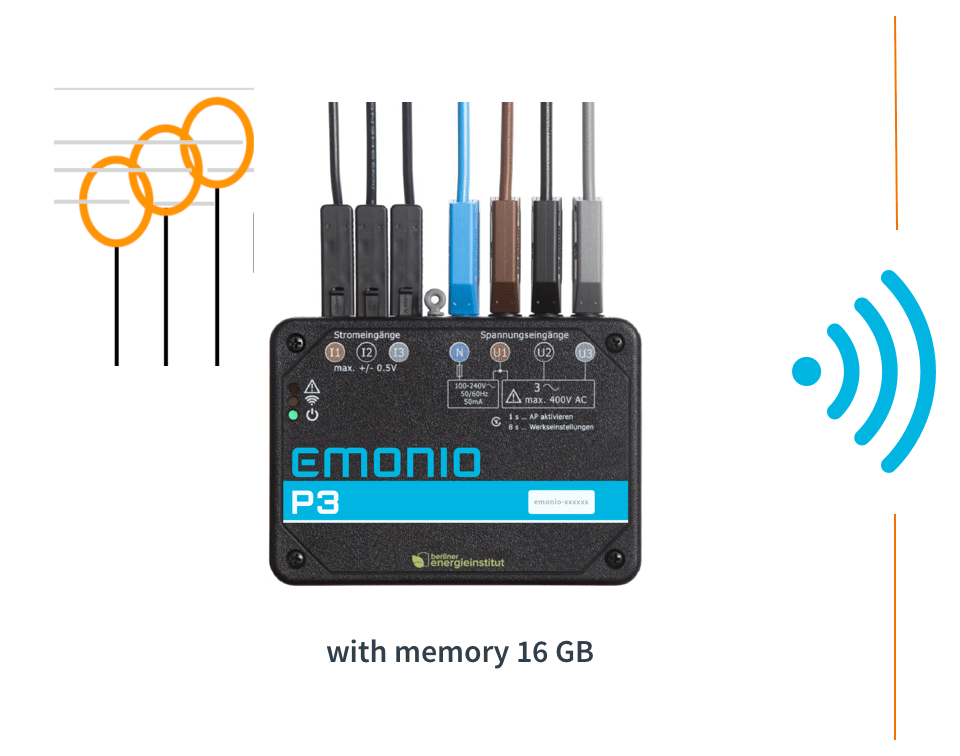 2 process / send data by WIFI
or bluetooth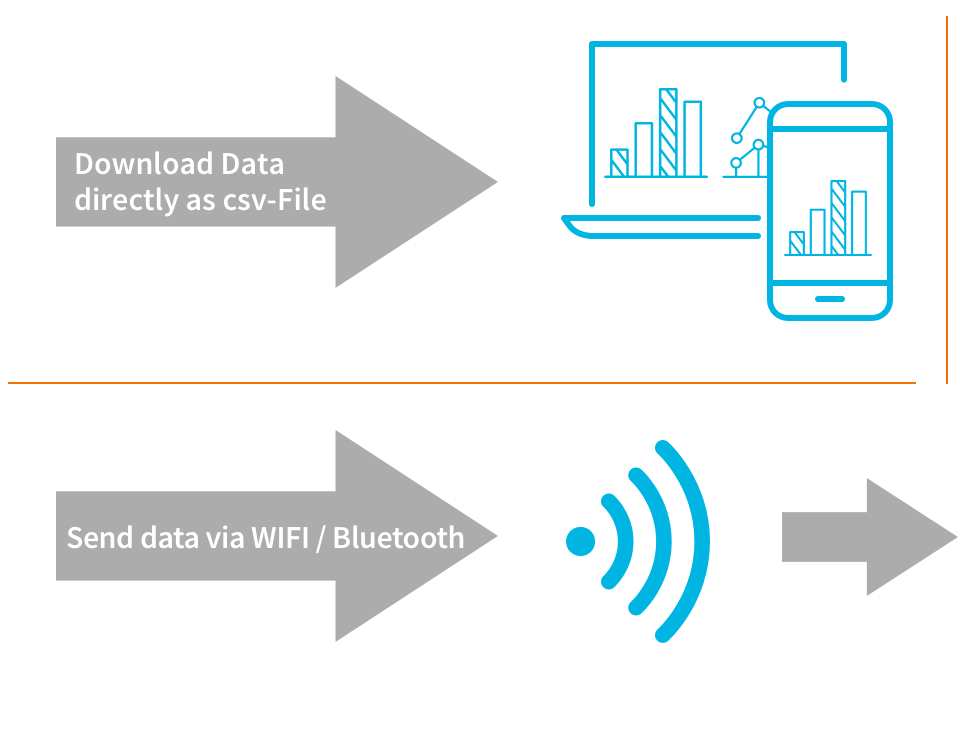 3 Visualize, analyse, report
pro.emonio.de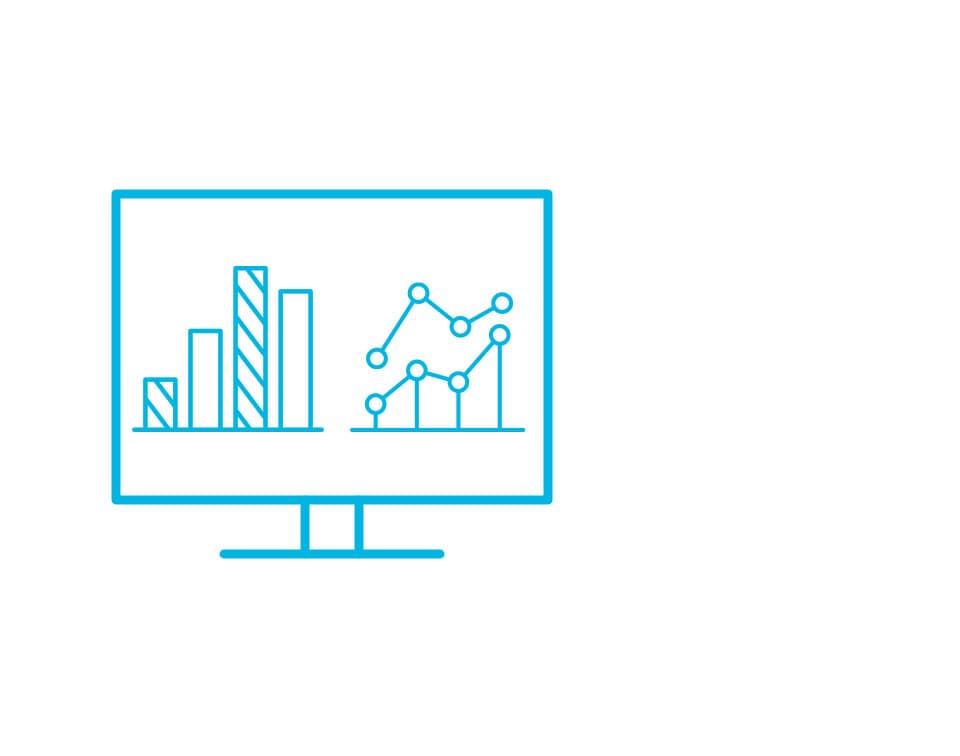 Emonio P3 is your perfect energy monitoring device.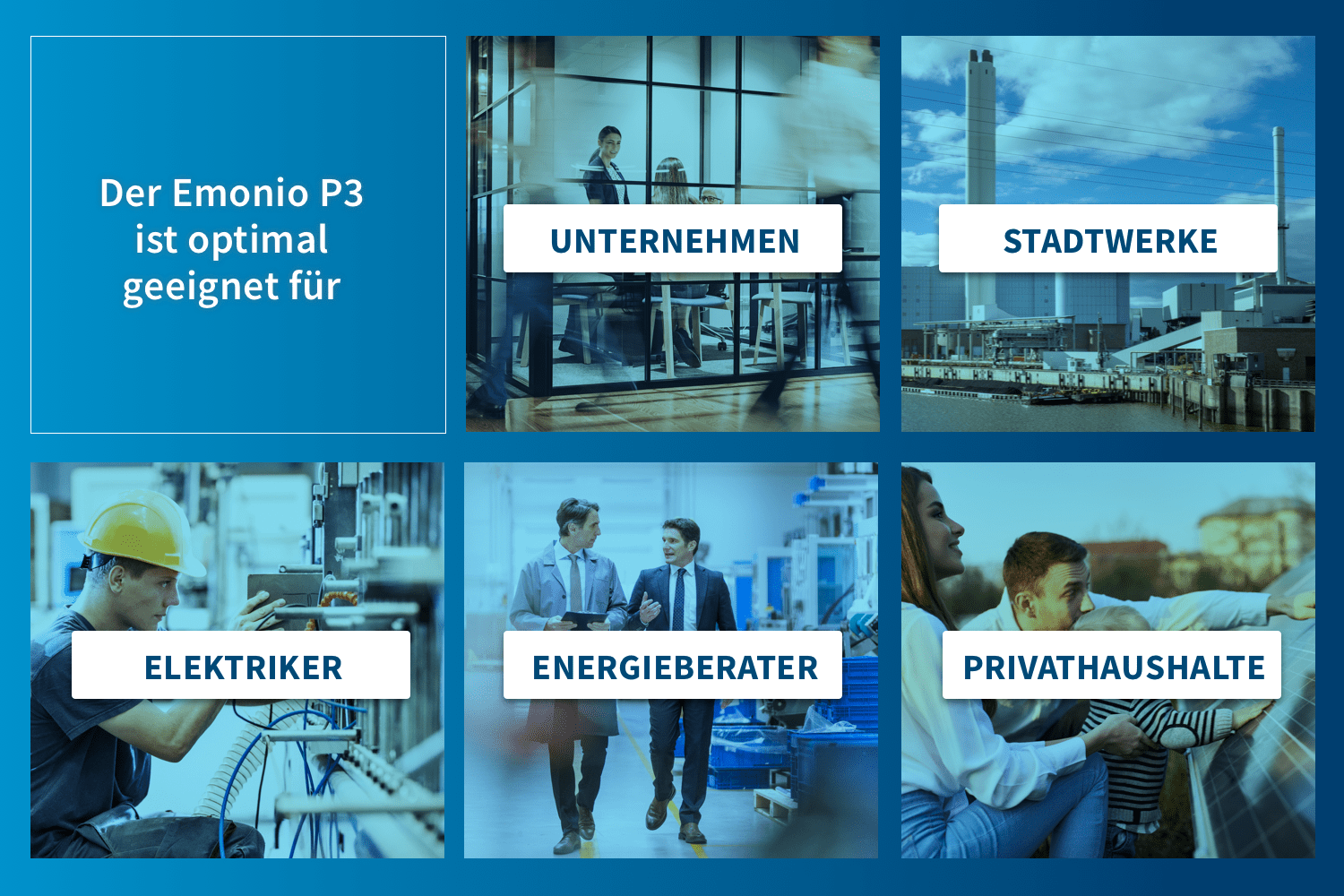 1/6 Overview of our key custumer
The Emonio P3 meets all requirements for precision measurement data of our target groups.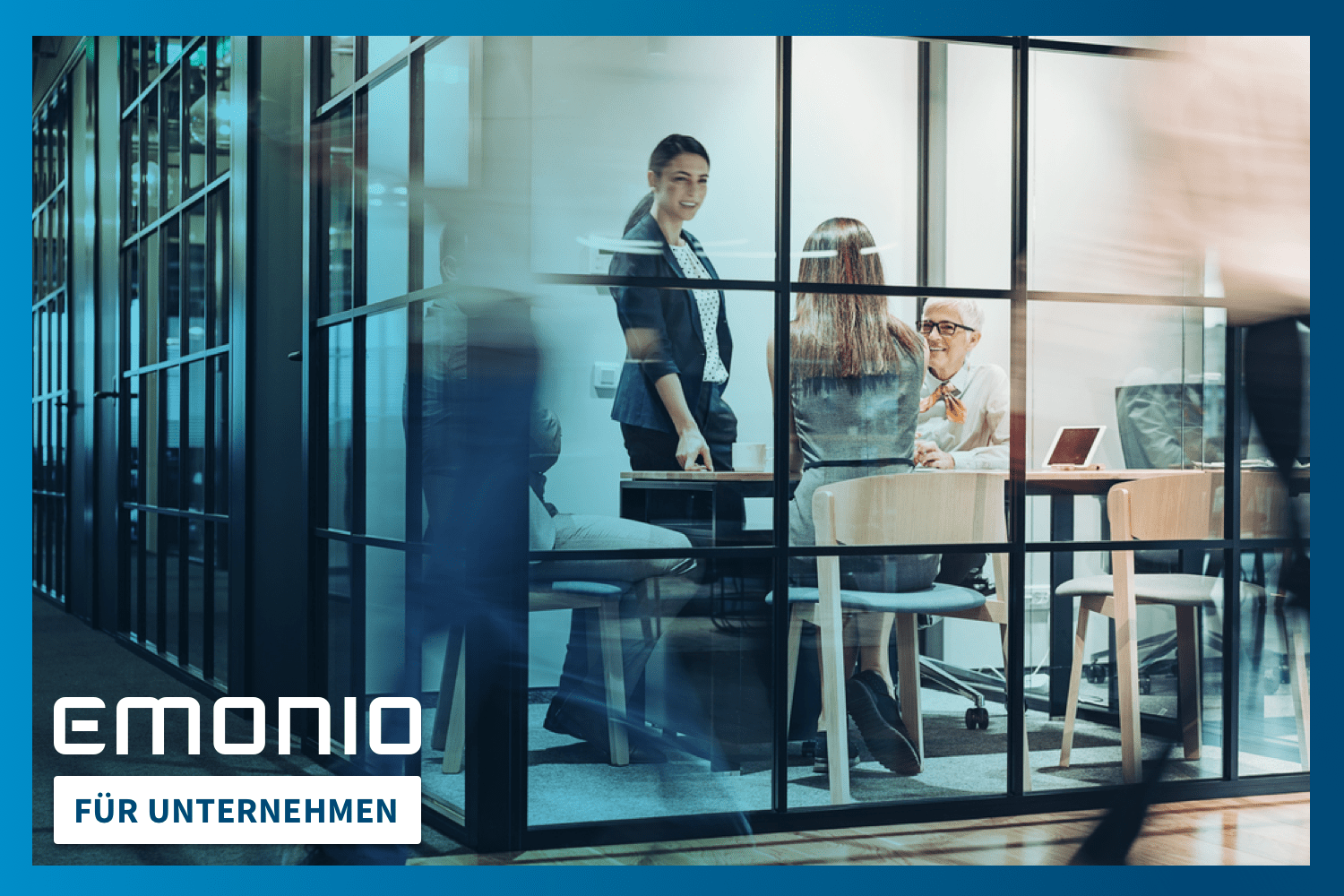 2/6 Enterprises
Are you an energy officer tasked with proving that your company is increasing energy efficiency rates? Emonio P3 is your ideal energy monitoring device for all systems and distribution units up to 3kA per phase.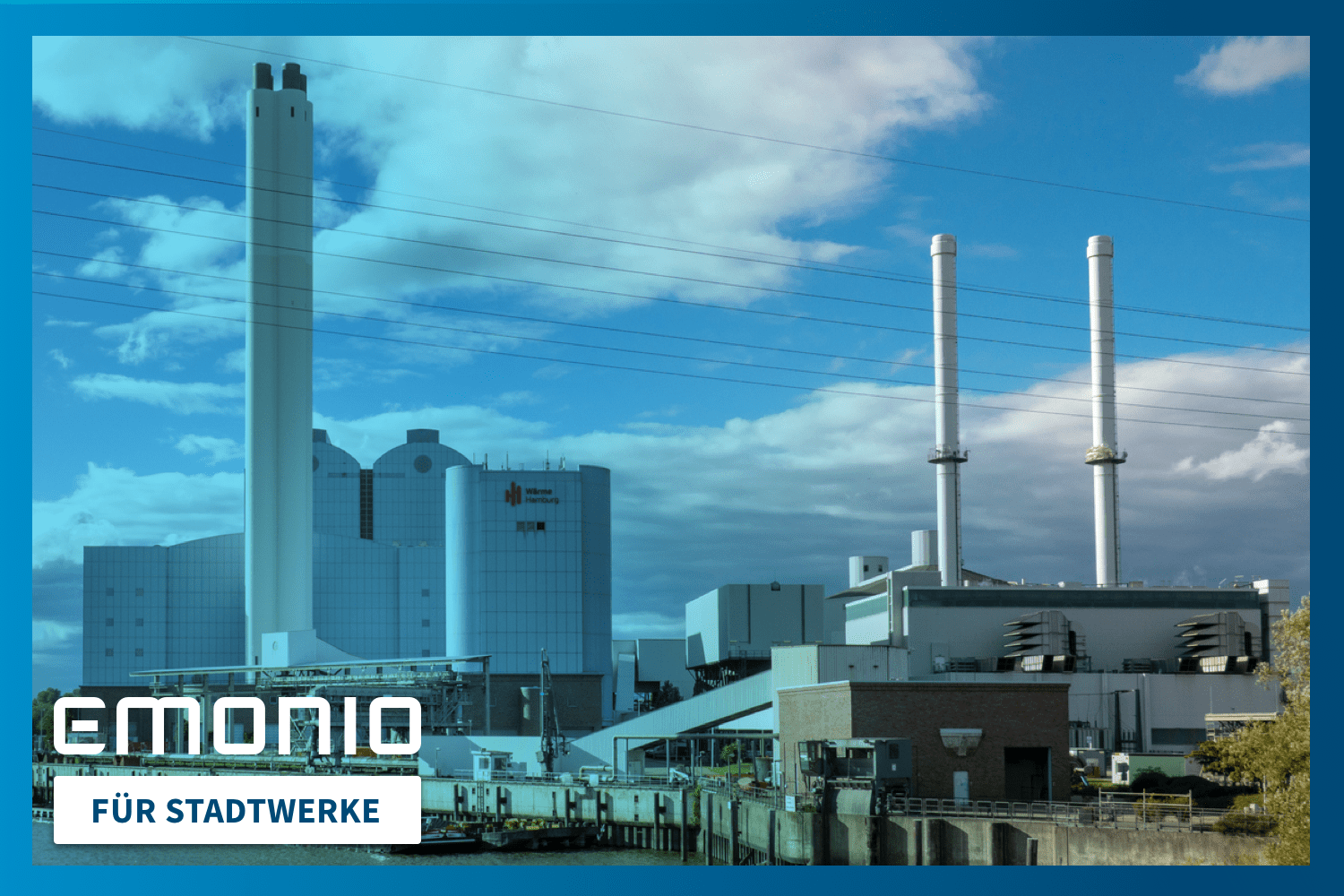 3/6 Municipal Utilities
Are you a consultant who advises clients about energy saving and has to determine load curves? Emonio P3 shows you exactly where the highes energy saving potentials can be found.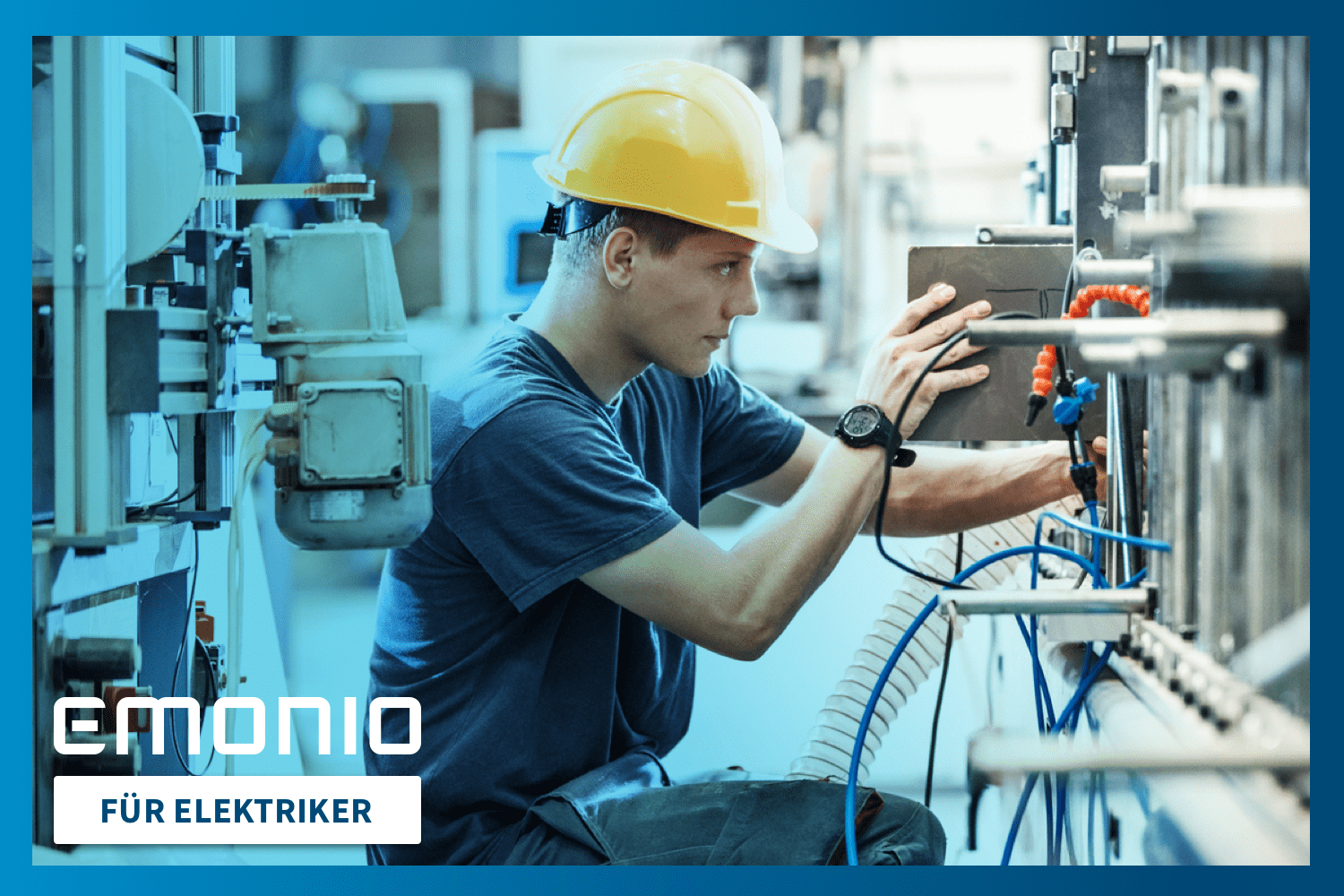 4/6 For electricians
Are you an electrician who needs to determine the load curves for clients? Planning a photovoltaic installation or a charging box for electric vehicles? Emonio P3 will help you.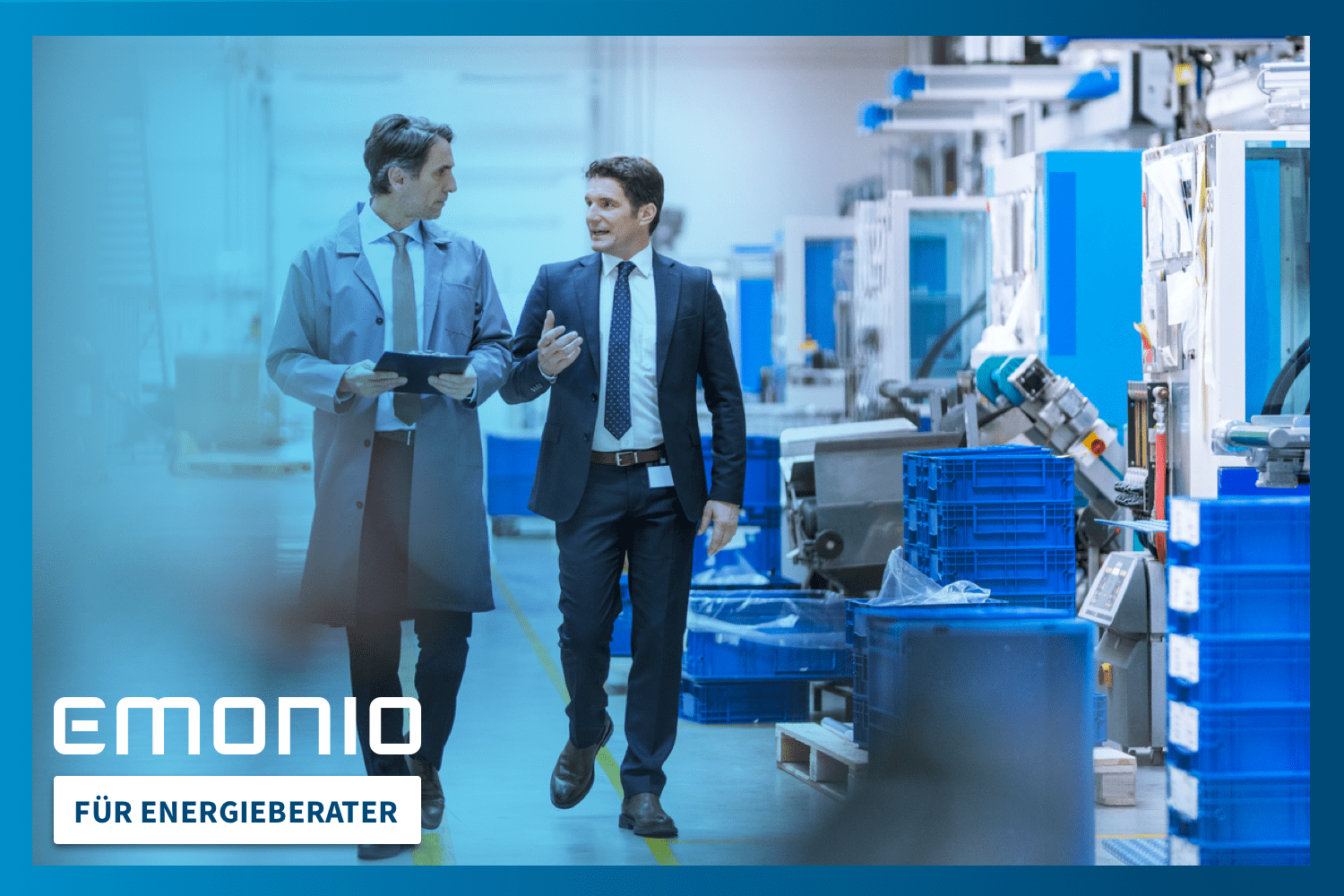 5/6 For energy consultants
Use short-term measuring to determine in detail the power requirements and load curve of your clients. Perfectly jusitfy and verify specific measures for saving.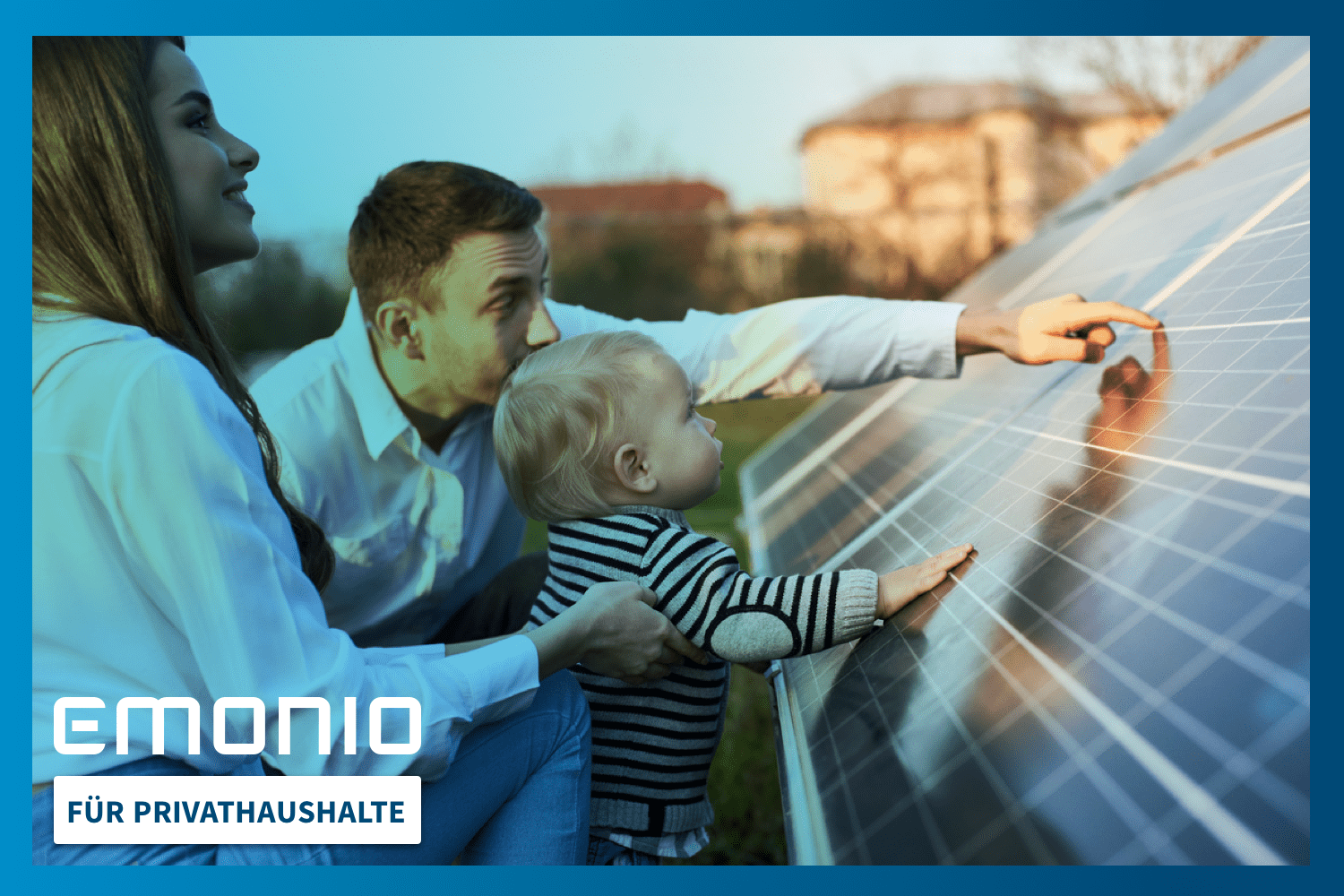 6/6 For private households
Use our device to measure your power requirements at home. Discover "power-thirsty"devices and specifically optimize their power consumption.
Die meistgekauften Emonio Produkte
Buy now
Buy now
Gedacht für diverse Messanforderungen

und für alle Branchen
In jedem Projekt zur Steigerung der Energieeffizienz ist eine Messung meist mehrerer elektrischer Verbraucher erforderlich. Mit dem Emonio P3 können Sie genau diese Schlüsselaufgabe einfach und präzise erfüllen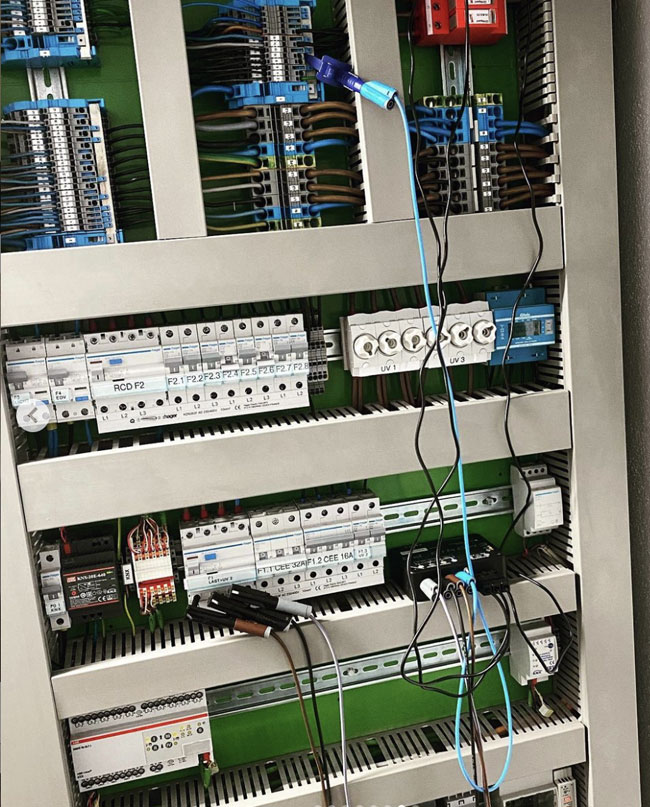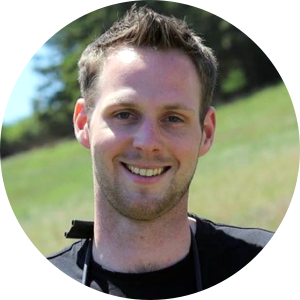 Dominik Tietz,
Elektrotechnik Tietz
"Ich bin mit dem Emonio P3 rund um zufrieden. Durch seine Handlichkeit ist er gut zu transportieren und einfach zu montieren. Er liefert alle benötigten Messwerte und ist für Kurz- und Langzeitmessungen verwendbar..."
mehr Infos unter Referenzen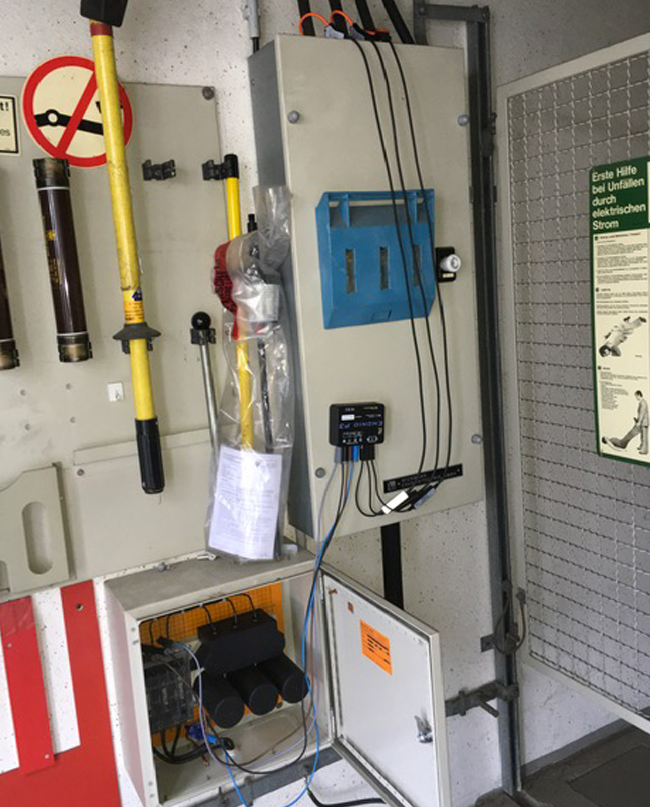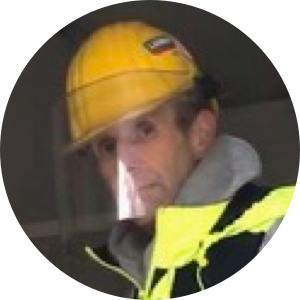 Stefan Thesing, Olfen
Elektromeister
"Grundsätzlich ist das Gerät sehr gut und meine Wünsche können damit auch gelöst werden. Nächstes Projekt ist die Überprüfung einer 50 KW Wasserturbinenanlage. Ich habe schon weitere Projekte "auf Lager"."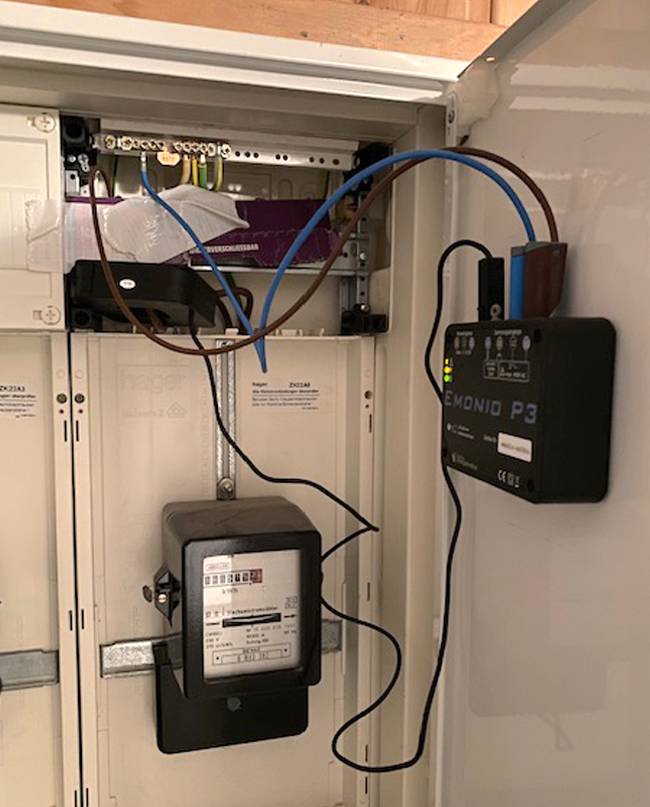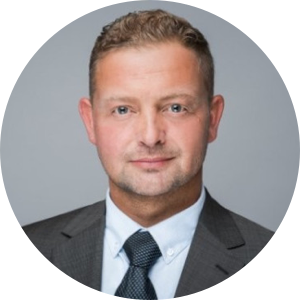 Mathias Klein, Wirtschafts-
ingenieur Ingenieurbüro IB.K
"Der EMONIO Datenlogger P3 ist absolut praxistauglich und zuverlässig. Der Preis ist im Verhältnis zum Nutzen bzw. der Leistung des Gerätes durchaus gerechtfertigt. Die Zubehörteile sind lieferbar und preislich verhältnismäßig."
Qualität, die unsere Kunden überzeugt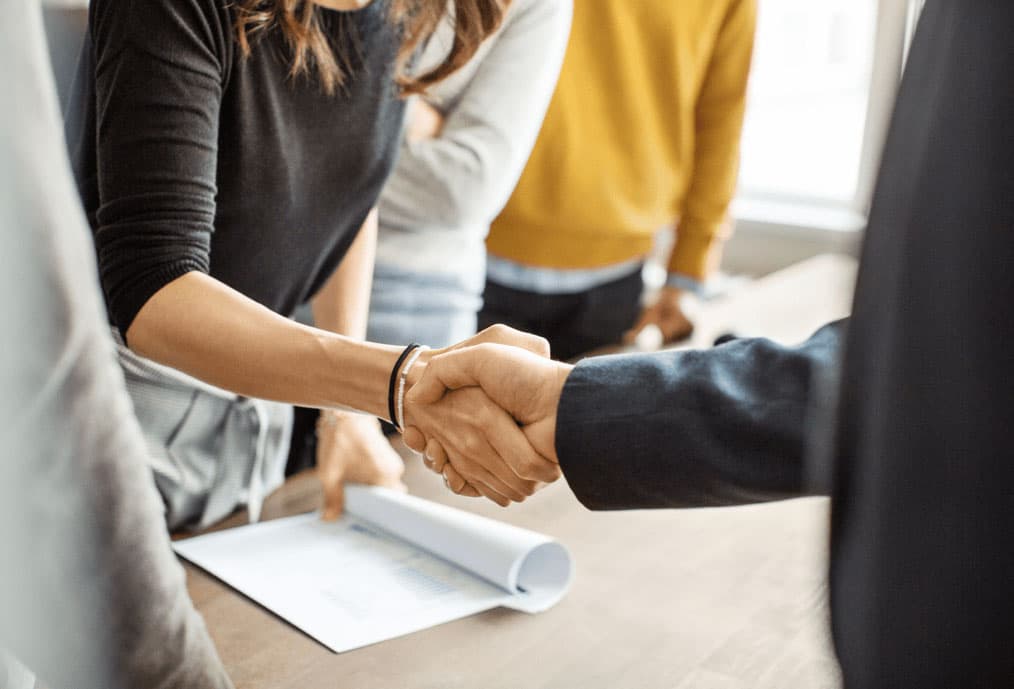 Messtechnik und Analysesoftware werden staatlich gefördert
Der Staat fördert den Einsatz von Messtechnik und Software in Unternehmen, wenn damit eine Steigerung der Energieeffizienz gemessen werden kann. Voraussetzung ist die Einrichtung oder Anwendung eines Energie- oder Umweltmanagementsystems. Wenn Sie beabsichtigen, eines dieser Systeme einzuführen oder Messtechnik benötigen, sprechen Sie uns an. Wir beraten Sie gern. 
Informationen zu den Mindestanforderungen erhalten Sie beim BAFA. 
Kompetenter Partner für Energieberater und Elektriker
Das Team hinter Emonio

Von Profis. Für Profis.
Wir sind ein Team aus Elektrikern, Energieberater:innen und Programmierer:innen. Damit haben wir das komplette Know-How im Haus, um die perfekte Messtechnik zu entwickeln. Mit dem Emonio P3 stellen wir Ihnen ein Energiemessgerät zur Verfügung, das in Ihrem Energieeffizienzprojekt schnell und einfach einsetzbar ist und Ihren Arbeitsalltag spürbar leichter machen wird.
Frequently asked questions
Technical specifications and tips for installation
Discover alle Emonio products
Emonio P3 direkt vom Hersteller kaufen
Benötigen Sie Beratung?
Unsere Energieberater*innen sind gern für Sie da.