The technology

of our Power Measuring Device
Emonio P3 is developed by energy consultants and electricians specifically for flexible application in different measuring environments. It records load curves of any device in any required measuring cycle. Receive measurement data of consumers by the split second. Installation does not require interruption of the power supply.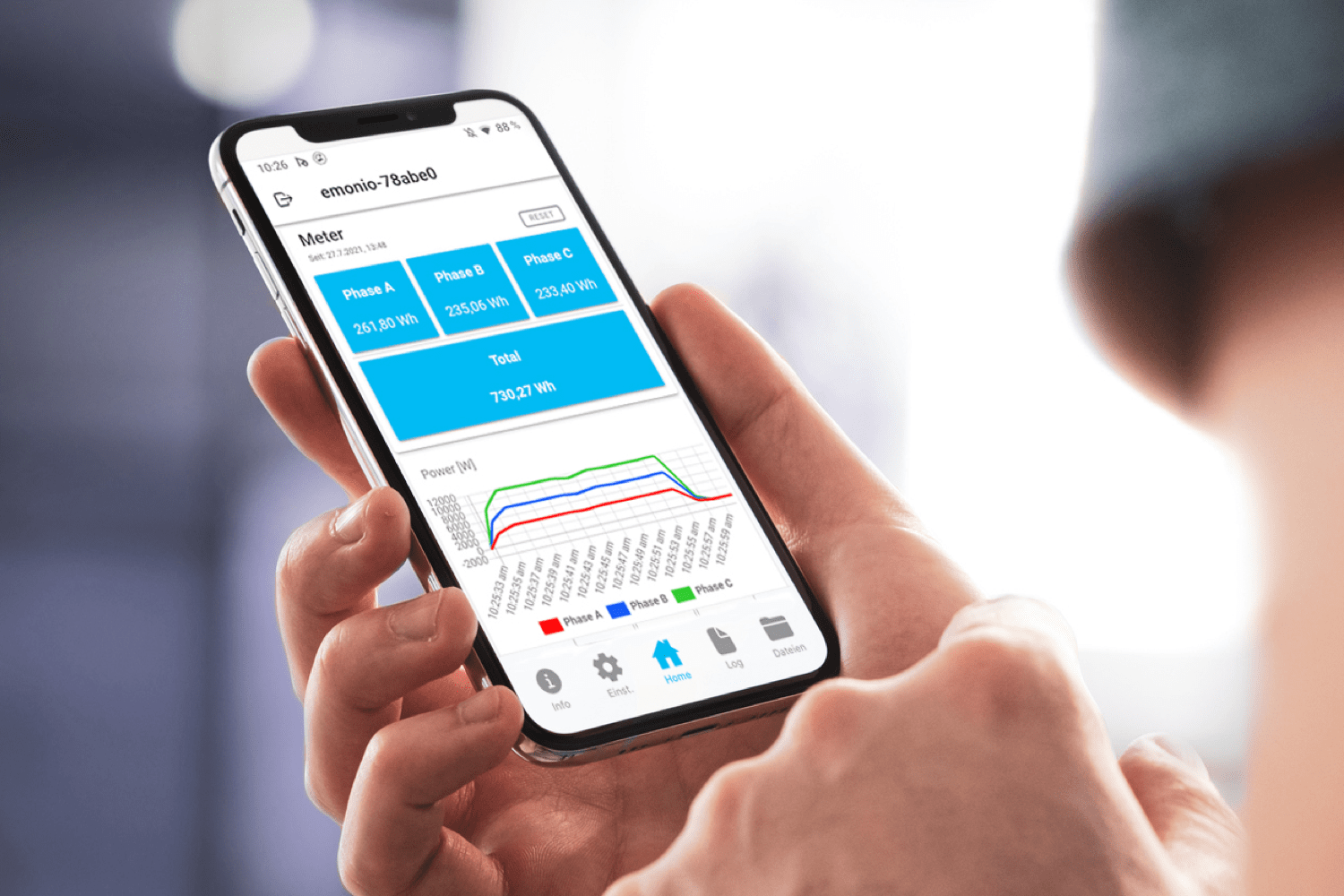 Simple installation of the power measuring device
Emonio P3 can be configured on-site either by app or browser using either your laptop, smartphone or a tablet that connects via the integrated WiFi. The transmitted data is encrypted using the  TLS 1.2 protocol. Emonio P3 has been certified by TÜV Nord according to DIN EN 61010-1 with regard to electrical safety.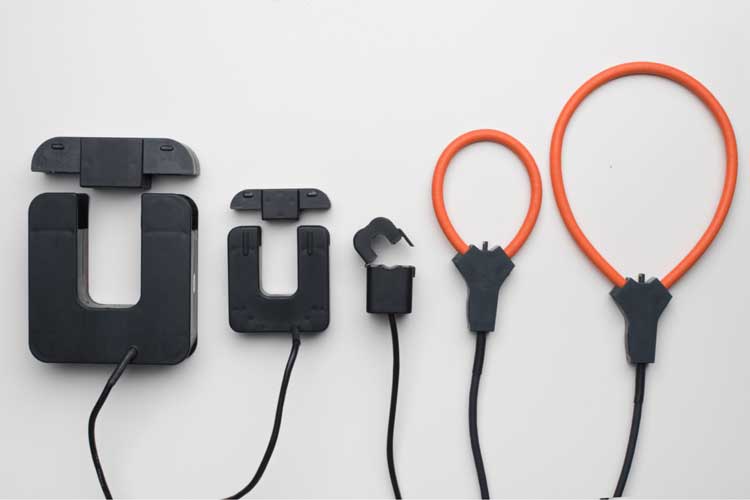 Interruption-free measuring of power consumption
Emonio P3 uses flexible rogowski coils or foldable current transformers (CTs) for interruption-free measuring of the current intake. There is no limit to the number of main and sub-distributions or systems that can be measured. The flexible rogowski coils als allow for measuring conductors that are difficult to access.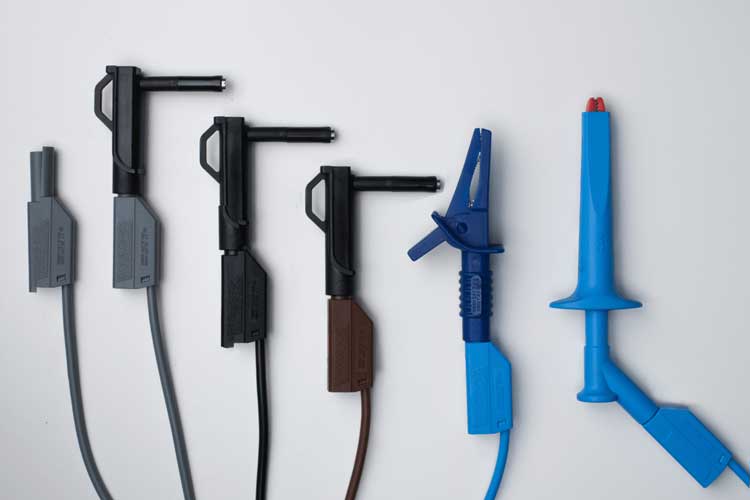 Voltage supply and voltage measuring
Emonio P3 uses magnetic tips or crocodile clips/tips to connect to and measure the voltage. The voltage probes also provide the necessary voltage so no further power source is necessary. The performance data is calculated precisely from the voltage (U) and the current (I), which are then used in the calculations of each phase.
Variable recording time:
The possible recording time varies depending on the choice of recordable data and the measurement cycle. The more data and the shorter the sequence, the less possible recording sequence per memory unit.
| Setting | Interval | 8 MB memory | 16 GB memory |
| --- | --- | --- | --- |
| Phase A, B, C + Total | 15 minutes | > 1 year | > 2000 years |
| Phase A, B, C + Total | 1 minute | 1 month | > 130 years |
| Phase A, B, C + Total | 1 second | 12 hours | > 2 years |
| | | | |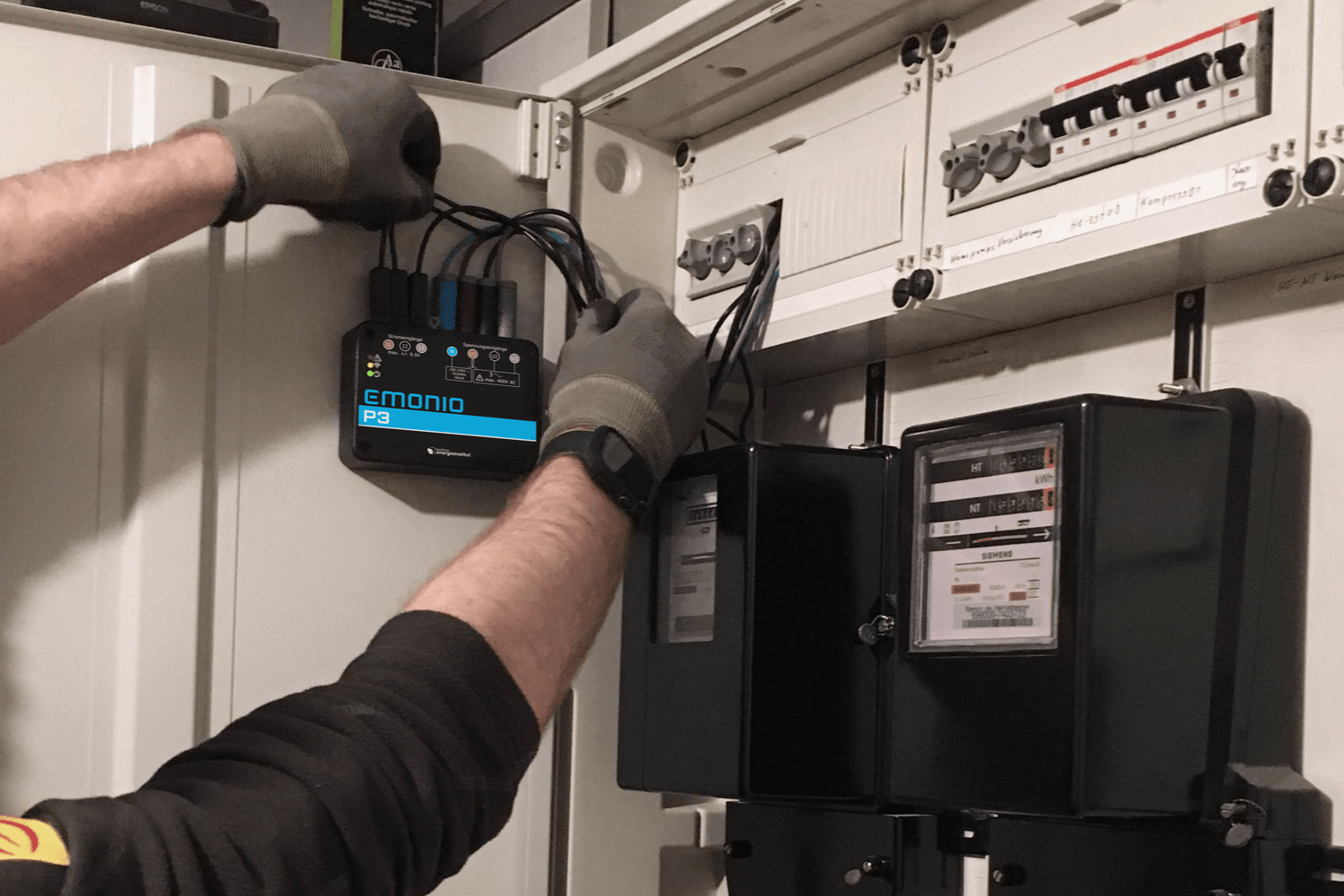 1/3 Easy Attatchment
With its magnetic back, the Emonio P3 sticks in any junction box.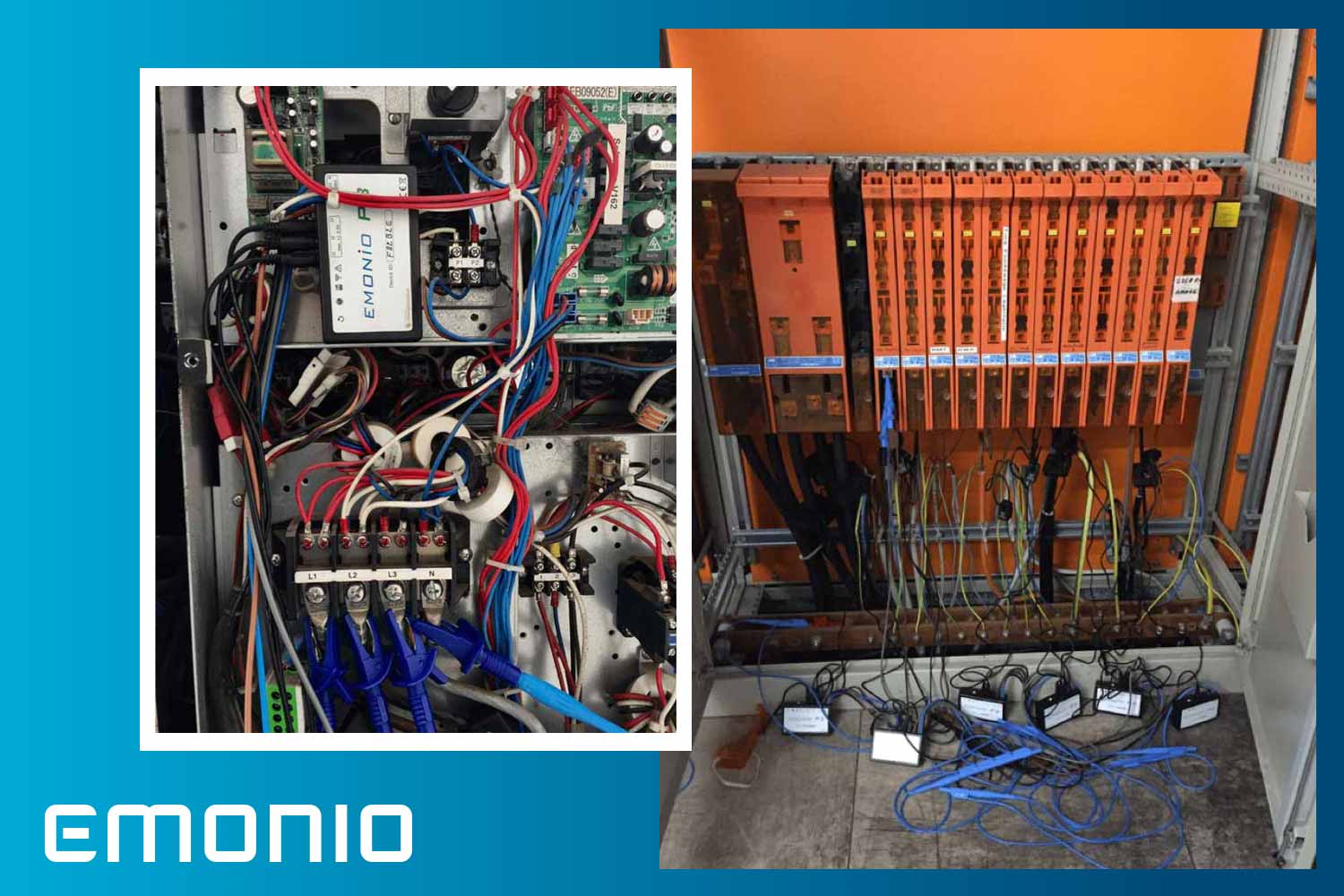 2/3 Small and compact:
The Emonio P3 Energy Meter can be easily installed anywhere.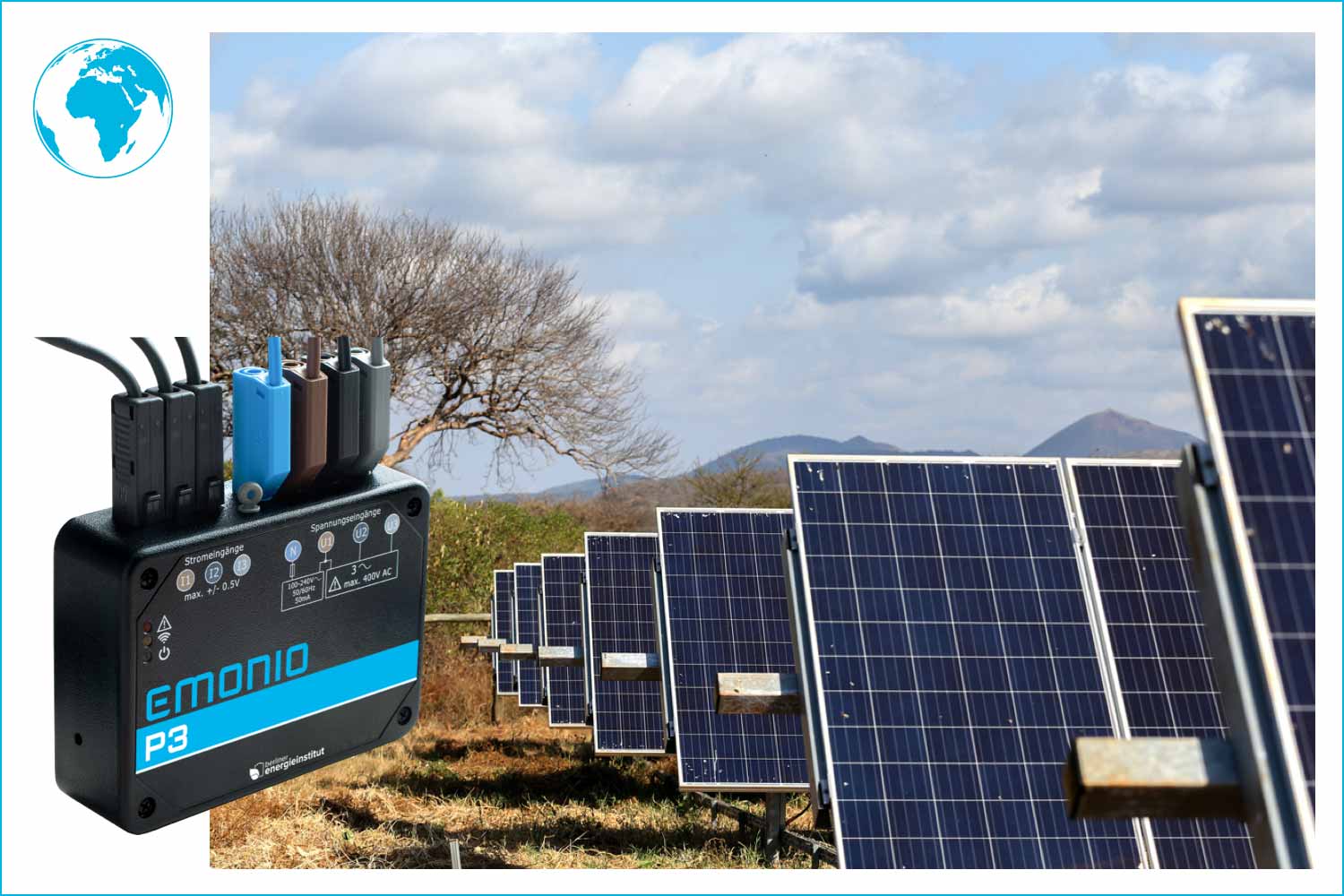 3/3 In use Worldwide
The Emonio P3 Energy Meter is primarily used to determine actual load profiles in systems and machines that are difficult to measure.
The best-selling Emonio Products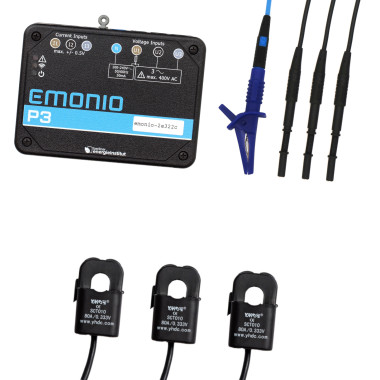 Buy now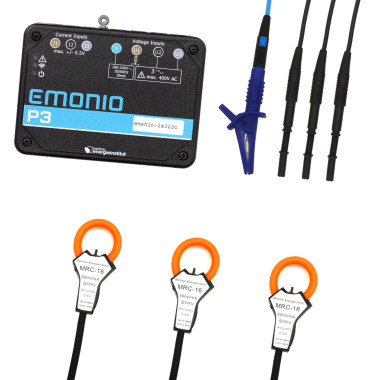 Buy now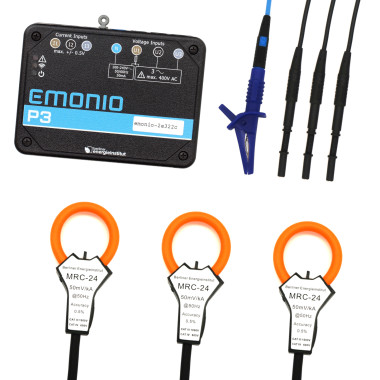 Buy now
Power Supply
Magnetic adapters (L1, L2, L3) and alligator clip or test probe (neutral conductor), no additional mains connection required. Option: Three-phase via hard wiring
Diameter magnetic adapters
6,6 mm
Voltage probes
240 V against neutral, 400 V phase-phase
Operating voltage
100-240 V (between neutral and phase A)
Inputs
3+1 Voltage inputs, 3 power inputs
Measuring range 1,
Current Transformer
0 bis 80 A (max. line diameter: 10 mm)
Measuring range 2, Rogowskicoils
Inner width: 16 mm, 24 mm, 50 mm: 2A - 625A
Inner width: 100mm: 2A - 1250A
Inner width: 150mm: 3A - 4800A
Input voltage current transformer
±0,33 V oder ±0,5 V
Measurement uncertainty
± 1% for U, I, P, S, L, <3% for Q, all devices are calibrated & are delivered with a dated initial certificate
Measurement rate
up to 25,000 measurements/sec
Data buffer (default settings)
22,000 data sets with time stamp and values for current, voltage, power separately for each of the three phases or 38,000 data sets with time stamp and values for current, voltage, power for three phases combined. Enough for about half a year.
Storage
internal 1 MB flash memory or 8 GB memory
Power consumption
0,9 Watt
Communication
internal and external WLAN, MQTT
LEDs
3 status-LEDs
Working temperature
-5ºC to 60ºC
max. relative humidity
85 %
Dimensions in mm (LxWxH)
127,00 x 88,90 x 38,10 mm
Weight(with measurement lines and magnetic adapters, without current transformer)
250 g
Weight (with measurement lines, magnetic adapters and current transformer 80 A)
445 g
Mounting
magnetic back, eyelet
Measurement category
CAT III
Electromagnetic compatibility
tested according to the requirements of the EMC directive
Electric security
tested according to the requirements of the low-voltage directive (EN 61010-1)
Encrypted data transmission
default: TLS 1.2
Frequently asked Questions
Technical specifications and installation tips
Discover all Emonio products
Buy Emonio P3 directly from the manufacturer
Need Advice?
Our energy consultants are happy to help you